The cement industry's carbon footprint is undeniably huge. Responsible for around 8% of global carbon dioxide emissions (about 25% if you look solely at industrial emissions), the cement industry is under pressure to decarbonise - and not only for environmental reasons. The industry generates the highest carbon emissions per dollar of revenue.
However, cement production isn't going anywhere. Cement has been used in construction for thousands of years and today is part of a global market worth in excess of $326.81 billion. Its use is ubiquitous around the world.
If its production is showing no signs of slowing (cement production is expected to reach 4 billion tonnes per year in 2050), then it will have to find ways of reducing its footprint. Fortunately, this has already been demonstrated through the use of alternative fuels.
Cement was one of the first industries to explore the viability of alternative fuels, seeking a more sustainable, cheaper alternative to the fossil fuels that had been traditionally used, primarily coal and petroleum coke.
Overcoming bottlenecks: alternative fuels used in the cement industry
With sustainability a growing concern, it is hardly surprising that the cement industry is open to increasing its use of alternative fuels. As the movement towards a net zero world gathers pace, decarbonising cement production will be key.
The emission reduction potential of alternative fuels depends on a variety of elements, including the makeup of the fuel, plant design and operational factors. In Europe, the cement industry has made great progress in transitioning to alternative fuels like carbon-neutral biomass and waste fuel sources.
For example, in Catalonia, an agreement has been in place since 2005 to explore the use of thermally dried sewage sludge from the Barcelona area as an alternative fuel in cement plants. The aim is to use over 60,000 tonnes of dried sewage sludge every year as a petroleum coke substitute.
Success stories of using these fuels within the cement industry
Success stories like that involving the cement industry in Catalonia are just one of many - made possible by the cement industry's decades-long battle to eliminate the bottlenecks and image problems holding back alternative fuel use. A misguided perception emerged that alternative fuels could only be employed in modern kilns or those with extensive modifications.
By 2050 - a key date in terms of our net-zero transition - it has been estimated that 40% of kiln energy could come from traditional sources, like coal and petroleum coke, with the remaining 60% provided by alternative fuels.
This has been shown to be demonstrably false. Substitution rates of up to 50% are easily achievable but higher figures are regularly achieved. An old Lepol kiln, for example, achieved a substitution rate of 100% while boosting its clinker production by 37% at the same time. Many other kilns have achieved similar results.
By 2050 - a key date in terms of our net-zero transition - it has been estimated that 40% of kiln energy could come from traditional sources, like coal and petroleum coke, with the remaining 60% provided by alternative fuels. As much as 40% of this alternative fuel could be derived from biomass. If this fuel mix could be achieved, it would decrease CO2 emissions in the cement industry by as much as 27%.
Want to know more about how this industry successfully realized this transition? Dive into our latest trend report.
How alternative fuels are decarbonising cement production around the world
Although examples of alternative fuel sources can be found around the world in the cement industry, from rubber tree wood in Africa to rice husks in the Philippines, they are far from widespread. Outside Europe and Japan, there are many regions where the use of alternative fuels in cement industry is either very limited or, indeed, non-existent. Therefore, the capacity to develop this technology globally is huge.
This is a shame from both environmental and economic viewpoints. As the economic incentives for decarbonisation (alongside the potential penalties for non-compliance) are ramping up, adopting alternative fuels will not only become a competitive advantage; it may be a corporate necessity.
Old and new kilns as an ideal opportunity
Fortunately, in the past decade, many new kilns have been built in Asia, Africa, and the Middle East. In Europe, kilns may be relatively old but largely remain efficient. These kilns - old and new - provide ideal opportunities to embrace alternative fuels, with the return on any required capital investment being very short.
Today, the bottlenecks that persist around alternative fuel used in cement industry predominantly reside outside the industry itself. Implementing waste policies to provide kilns with high-quality fuel sources, improving energy legislation, and developing R&D policies to promote the recovery of viable fuels from waste for co-processing are essential. Not only for the industry, but the entire planet.
Decarbonising cement production: An achievable ambition
The race is on to slow climate change and reach net zero by 2050. With its acceptance of alternative fuels, the cement industry has a head start but it is not the only sector that stands to benefit environmentally and economically. Additional kilns (and other industries) must also get on board.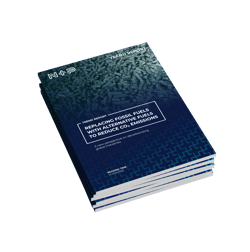 To find out more about how alternative fuels can help decarbonise the cement industry, be sure to download the trend report "Myths & facts about the use of alternative fuels."