After winning the Global Alternative Fuel Supplier of the year title 5 times a row from 2015-2019. N+P is honored that, during the 16th Global CemFuels event in Istanbul, our CEO and founder, Karel Jennissen, is named CemFuels Alternative Fuel Personality of the Year 2023!
The Global CemFuels Conference and Exhibition has established itself as the largest specialised annual alternative fuels conference and exhibition in the world, showcasing the best alternative fuels developments from the cement industry around the world. Delegates from more than 35 countries shared their knowledge how to use or increase their fossil fuel substitution with alternative fuels and voted for the Alternative Fuel Supplier and Personality of the year Award.
"I didn't win this award, but everyone from N+P did. This is a huge compliment and appreciation for the efforts of all our colleagues who have brought N+P to where we are today.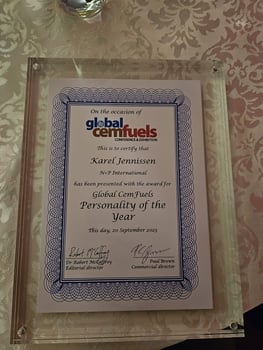 Starting the company in the early 90s with a cement and lime brick-building industry background, Karel pursued a novel idea: Why not turn the billions of tonnes of solid waste deposited in landfills into a low-cost alternative fuel that could power cement kilns and other energy intensive processes? In more than 30 years, N+P Group has grown from a simple, yet profound idea to commercial viability. This also confirms that waste is not a problem, but a solution in the energy transition and that its further development in recent years is of inestimable value. Both ecologically and economically."
"We were one of the first in the market to offer low-caloric value fuels like RDF and SRF, and we remain one of the largest players in that market." More than 30 years later, Karel is the Alternative Fuel Personality of the Year, the icing on the cake.
"Besides my wife, there was one other very important person who has been of great importance in this journey. And that's Neville Roberts. Neville was my friend, support and advisor who knew everything, absolutely everything, in the field of cement and alternative fuels. His sudden death early 2023 is, therefore a great loss. As a person and as a professional. I would, therefore, very much like to dedicate this award to him."

Read the full story of how Karel built N+P here.
Lars Jennissen present at CemfuelS as speaker
This year, our Chief Development Officer, Lars Jennissen, was invited to present the latest developments at the CemFuels event. He talked about how the next generation of milled Alternative Fuel can reach up to 100% fossil substitution in the cement and lime industry with milled Subcoal®. Here are some key insights about milling pellets with a hammermill:
Significant reduction in particle size at fairly low costs resulting in higher-quality fuel
Targeting last ~25% of substitution
Very quick burnout rate
High density to ensure stable feeding
Excellent flowability properties
Suitable for single or multi-burner systems