The need for alternative fuels has never been as high as now. As the deadlines of the Paris Agreement approach in countries worldwide, more and more energy-consuming industries are pressured to minimize their carbon footprint. At the same time, these corporations are eager to demonstrate a commitment to sustainability that will enhance their social responsibility. A transition to waste-derived alternative fuels can accomplish these tasks.
In this blog, you will read about the factors underlying this transition and how alternative fuels can realize important reductions in both CO₂ emissions and costs by turning waste to fuel.
Use waste as a fuel source to maintain competitiveness and profitability
As the price of fossil fuels rises, along with the CO₂ taxes introduced by governments to reduce emissions, the demand for alternative fuels at lower costs and with fewer CO₂ emissions will inevitably accelerate. Due to ever-increasing costs, industries will have no choice but to explore the possibilities of using alternative energy sources.
It is a necessity to maintain a competitive market position and minimize costs. Replacing fossil fuels for waste-derived energy sources will ensure your business continuity and profitability in the long run.
Plants in the cement industry have already replaced 70% of its fossil fuels with alternative waste-derived fuels like Subcoal®, with only minor adjustments to their plants.
Want to know more about how this industry successfully realized this transition? Dive into our latest trend report.
Waste to fuel solutions to comply with political regulations and meet the Paris agreement
Another important driver to replace fossil fuels with alternative fuels is pressure from politics, as well as regulatory and environmental authorities to meet the Paris Agreement. This pressure is still building within society and in politics, resulting in stricter regulations and heavier reliance on traditional renewable energy sources, solar and wind.
However, solar and wind energy, along with battery storage technologies, do not yet create enough power for all industries. Therefore organizations need to look for alternatives, and waste to energy/fuel technologies is a perfect third option to comply with sustainability regulations.
Improve the image of your industry by implementing waste to fuel initiatives to reduce the environmental impact
Next to economical benefits, there are also important environmental advantages associated with waste to fuel solutions. First, developing a vision of where your business wants to be in 10 years in terms of emissions and sustainable fuels demonstrates your environmental awareness and socially responsible behavior.
Another unique benefit of waste-derived fuels is that they are directly available. Every country in the world has a ready-made supply of non- recyclable waste. As a company, you can make an enormous contribution to reducing the environmental impact of overflowing landfills by processing local municipal waste into valuable new resources.
And by using this local input to produce an alternative fuel, you will avoid emissions and costs created by international shipping (like importing coal for example). These advantages not only positively impact the environment but will also greatly improve the public image of your industry.
Now is the time to switch to alternative fuels
In the next few years, and certainly by 2030, global industries will face crossroads. With the specter of climate change leading to legally binding commitments that each country has made to reduce their CO₂ emissions and radically increase the use of alternative fuels sources, every industry will almost certainly need to make changes to its current production process.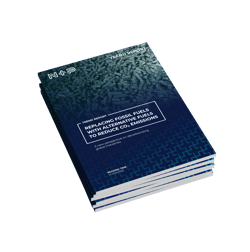 Do you want to know more about the possibilities of waste to fuel and the implementation of alternative fuels? Discover how other major energy-consuming industries are getting rid of their CO₂ footprint and bad image with waste to fuel solutions. Discover the biggest trends and benefits in our latest trend report: